iPhone 12 Case
The modular iPhone case allows for modular components to be added or removed. Find below diagrams of each and their specific product features. 
Case: The base iPhone case upon which modular components can be magnetically attached. 

Folio: Acts as a fully-fledged wallet and phone case, offering more screen protection. 
Cardholder: Magnetically attaches to the base iPhone case to provide more card space.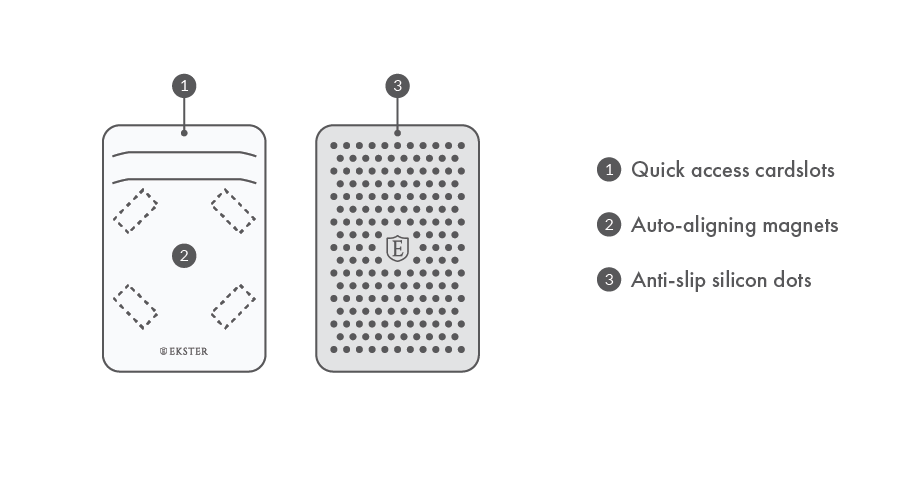 FAQ's:
Are the Magnetic Folio and Cardholder compatible with my iPhone 12?
No, the magnets used inside our Ekster iPhone 12 products differ from those to the iPhone 12 MagSafe magnets. For the Magnetic Folio and Cardholer to magnetically atach to your iPhone 12 you must purchase an Ekster iPhone 12 case.
Will the magnets affect my cards?
Some accessories use magnets to keep components securely in place. These magnets will not affect your bank, travel, or credit cards. However, hotel room cards have a lower threshold for magnetic contact, and it may cause them to stop working. We suggest placing hotel cards in the front pocket of the cardholder to avoid this issue.
How do I get rid of stains in the leather?
Leather can be prone to stains, but that doesn't mean you can't get rid of them. If stains appear on your wallet, use a damp cloth without any cleaning substances to gently wipe the surface. If the stain proves to be stubborn, use leather cleaners that are designed to clean the stain, but not the leather's dye. Here is a suggestion on the cleaner you can use.
---