Tracker Card
The Tracker Card is a super powerful tracking device the size of credit card that fits seamlessly into most Ekster accessories. The card is solar-powered and utilizes a Global Lost and Found network to ensure global trackability. You can ring your wallet, so it makes itself found using sound, or you can find it on the map.  
Want to learn more about how we designed the Tracker Card? Check it out here.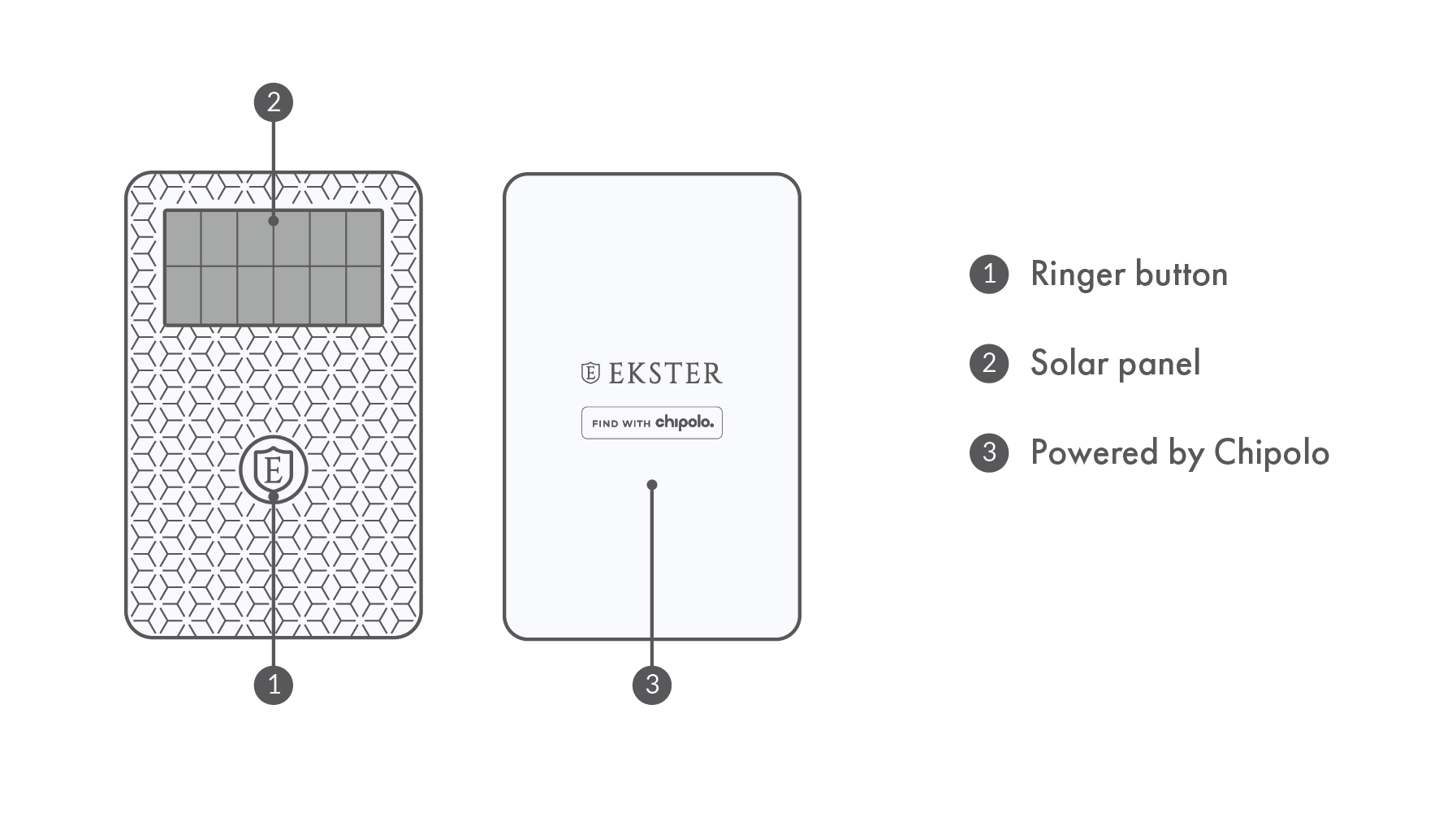 Features: 
Specifications:
Tracker Card: Powered by Chipolo® 
Dimensions: 0.15 x 2 x 3.5 in (0.3 x 5 x 8.5 cm)
Technology: CompatibilityiOS 11/Android 5 and above
Coverage: Worldwide Lost & Found Platform
Safety: Net RangeUp to 200 ft (60 m) with BLE 4.0
Solar-Powered: 3 hours of charge lasts 2-3 full months
Ringer: Ring your wallet or phone
Voice-Activated: Compatible with Google Assistant, Alexa and Siri 
Selfie-mode: Take remote group selfies with your Tracker
SET UP
Download the Chipolo app.
Create an account.
Add a Chipolo tracker, then look for "partner products."
Click the Ekster logo icon.
Make sure your Bluetooth is turned on
Pair the tracker card by holding the button on the card (this could take up to 20 seconds).
Test your tracker card by ringing it.
RESET
If you can't see the 'ring to find' button, it means the tracker card and your device are not connected. To reconnect:
Close the app, then turn off Bluetooth and WiFi.
Restart your phone.
Turn on Bluetooth and WiFi, then start the Chipolo App.
Wait 10 seconds for your phone and tracker card to re-establish the connection.
Do you want to reboot your tracker? Hold the button down for ten seconds, or until you hear the tracker beep.
REMOVAL
To unpair or remove your tracker from your device, please:
Tap the settings button (3 small dots).
Tap 'Customize Ekster.'
Tap 'Remove Ekster.'
Confirm the unpair by selecting 'Remove.'
VOICE ACTIVATION
Your voice assistant can locate your wallet, or it can tell you where it was last seen by the Chipolo app. 
Please note: Chipolo Voice Control supports the English language only, and Google Assistant is limited to certain regions.
System Requirements
iOS devices: running version 9.0 or newer, with built in Bluetooth 4.0
Android devices: running version 4.4 or newer, with built in Bluetooth 4.0
FOR GOOGLE ASSISTANT 
Open the Chipolo Actions page on the Google Assistant Actions Store by searching for 'Chipolo.'
Make sure you are logged in with the account you use for Google Assistant.
Tap 'link.'
You will be directed to the Chipolo web app, where you can sign in with your Chipolo account.
After logging in, you will be presented with a screen that explains your accounts will be linked. Tap 'confirm.'
FOR AMAZON ALEXA
Open the Alexa app.
Tap the three lines in the top left corner to open the menu.
Tap 'Skills.' The Amazon Alexa store home page will open.
Tap 'Enable' to start linking your account.
You will be directed to the Chipolo web app, where you can sign in with your Chipolo account.
FOR SIRI
Go to Settings on iPhone, then go to Siri & Search.
Go to 'All Shortcuts.' You'll see an option to 'Ring Ekster' under Chipolo.
Tap the + and record your voice saying 'Ring my Ekster.'
Activate Siri by holding down the home button.
Command Siri to 'Ring my Ekster.'
HAVING TROUBLE WITH THE WORD EKSTER?
Amazon Alexa sometimes has issues understanding the word 'Ekster.' Here's how to fix it:
Tap on the settings button in the Chipolo app (3 small dots).
Tap on 'Customize Ekster.'
Tap on 'Name' and change it to 'wallet' (or any name you want).
All done! Alexa will be able to call your wallet now.
FAQ's
What is the battery life of the tracker?
The Tracker card is solar-powered, so you never have to plug it in. 3 hours of sunlight equals about 2 months of charge. To ensure the longevity of your tracker's battery, we recommend two hours of sunlight per month.
Do Ekster Wallets prevent theft?
No. You will be alerted if your phone or wallet lose connection with each other, but our trackers are not designed to prevent theft. They are designed for people who tend to lose their belongings.
How does Crowd Locate work?
The Chipolo Crowd Locate network can help you to find your wallet when it's out of range of your paired device. If another person using Chipolo software is in range of your tracker, their app will send you an anonymous update of your tracker's location. The app also functions globally, so it will work worldwide.
The Chipolo app also has a feature which allows you to receive an automatic notification when another user comes in range of a Chipolo you've marked as lost.
Is the tracker waterproof and heatproof?
The tracker is water resistant, but not waterproof. We advise you to keep it away from water for it to continue working as intended.
Please note: Do not store the tracker in high-temperature environments, such as the inside of your car on hot days, or in direct strong sunlight. This may cause the outer casing to overheat and melt.
How do I track my wallet?
Make sure your tracker is always paired with your app to locate your wallet. If you can't find your wallet but you know you're close to it, press 'ring' on the app. If not within close range, tap 'mark as lost.' This will engage the Crowd Locate network to search further.
---